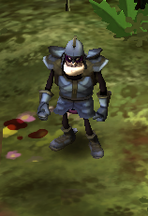 Armor of Science is a level 6 armor.
Chestpiece of science. +80 health.
This plate armor has been forified with nutritious technology.
Helmet of science. +40 health.
This helmet reduces my wind shear by 40%.
Boots of science. +20 health.
These boots prevent slipping and intestinal diseases.
Shoulders of science. +40 health
The gloving lights on my shoulders give me a bonus versus low light conditions.
Gloves of science. +20 health.
Grind: each part of the armor set is worth from $2688 to $4032.

Ad blocker interference detected!
Wikia is a free-to-use site that makes money from advertising. We have a modified experience for viewers using ad blockers

Wikia is not accessible if you've made further modifications. Remove the custom ad blocker rule(s) and the page will load as expected.