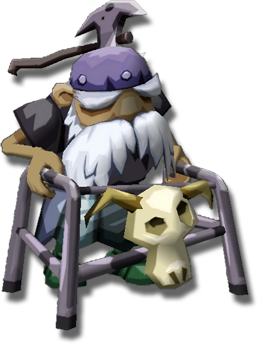 Eubrick the Retired
is a blacksmith who lives in the town of Pluckmuckel. He is a fan of spicy tacos. He will trade his sword called Old Bessie either for a tank or a spicy taco. He has a axe stuck in his back and therefore requires help to walk.
It's easy to feel sorry for poor old Eubrick. Don't. He retired after a career adventuring way back when level three was a big deal.
Also known as
Edit
Eubrick the Bitter
Eubrick the Undefeated
Eubrick the Bastard of Hillhaven
Sally the Stable Girl
Eubrick the Bed Wetter
Ad blocker interference detected!
Wikia is a free-to-use site that makes money from advertising. We have a modified experience for viewers using ad blockers

Wikia is not accessible if you've made further modifications. Remove the custom ad blocker rule(s) and the page will load as expected.