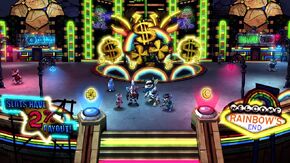 Rainbow's End
Edit
Known as the biggest casino and also the worlds most corrupt one as well in The Baconing . Run by the infamous Leprachaun Mob Family, you'lll find slot machines, craps tables, felt, cyborques, mines, old faces, degenerate gamblers and best of all, McMafia, the leader of the Mob.
Leprachaun Mob
Edit
The Boss of the mafia, McMafie Leader, runs Rainbow's End and its wonderful "legal" gambling casino. He may even offer you something you can not refuse. Whether it be rigging slot machines, attacking crazy nuns, or finding clovers in th deadly clover mines. Whether your apart of the "family" or not, the other members of the Leprachaun mob will atack you on site. Be careful around them, I hear there opera shows are to die for...literally....everyone dies when they go see one.
"BRING your MONEY, LEAVE your DREAMS"
Areas of Interest
Edit
Cyborgue Camps
Casino Grounds
Crazy nuns
Clover Mines
Slot Machine Repair Room
Opera House...smells like bacon.
Ad blocker interference detected!
Wikia is a free-to-use site that makes money from advertising. We have a modified experience for viewers using ad blockers

Wikia is not accessible if you've made further modifications. Remove the custom ad blocker rule(s) and the page will load as expected.