The Fires of Bacon (a.k.a. Porcilin Flame) are the origin place of the Thongs of Virtue.
Created by Sandy Bravitor's Grandfather long ago. There were supposed to be 9 Thongs in all, but due to upper management only 6 were created using the Fires of Bacon.
Each Thong was created from one Bacon Fire across the world.
In order to destroy the Thongs, DeathSpank must throw the thongs into the Bacon Fire in order to weaken the Anti-Spank. In each part of the World there is one Fire Pit with which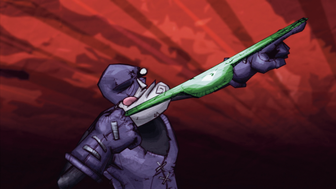 DeathSpank uses. In order to get to these Fires, DeathSpank must help the downtrodden, serve justice and pick a nasty wedgy.There are a total of 5 pits, if you couldn't count.
Bacon Fire Locations
Edit
The Forbidden City
Rainbows End
Barnacle Lake
Hell's Half Acre
Ad blocker interference detected!
Wikia is a free-to-use site that makes money from advertising. We have a modified experience for viewers using ad blockers

Wikia is not accessible if you've made further modifications. Remove the custom ad blocker rule(s) and the page will load as expected.